Samsung Ruggedized Tablet
The idea of having a "ruggedized" tablet is so our members who work in remote regions could have a useful computer device that is able to withstand hard use in the field. The following tablet is made to "military specifications" meaning that it can withstand most hard conditions found in the field and not fail.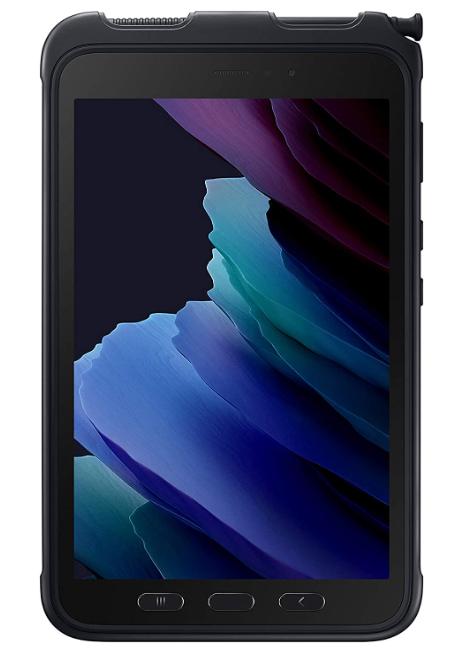 I ordered several of these rugged tablets which are designed to resist dust and rain and weather that is common in outdoor settings.
The above video illustrates the use of this ruggedized tablet for outdoor use and for GPS positioning and imaging and many more uses. All of these features would be beneficial for our exploratory operations in remote regions.
The video above illustrates the use of this product in rough environments such as in industry and warehouse use and places of dust or rain that could damage normal electronic devices.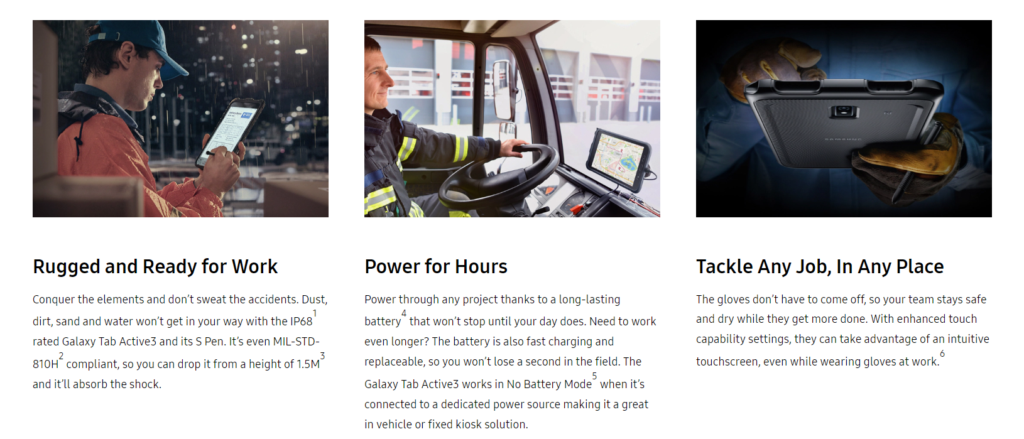 ZenRich Rugged Carry Case for Samsung Tablet 3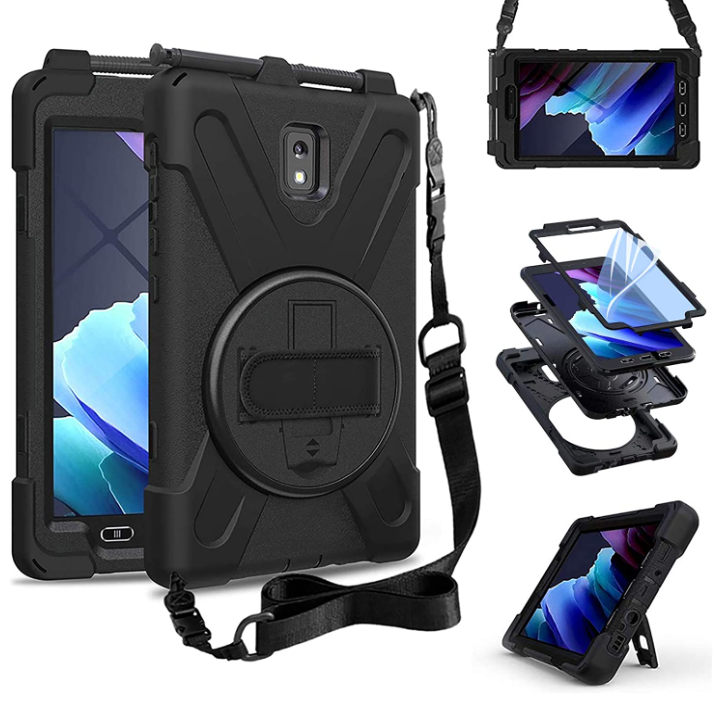 The above carry case is made specifically for the Samsung Galaxy Tablet 3 (T577) model. It has hard plastic frame that is resistant to shock and has a silicone rubber molding encasing the hard plastic frame. This system also includes a clear shield which is compatible with their S-pen for tablet operation (even while wearing work gloves).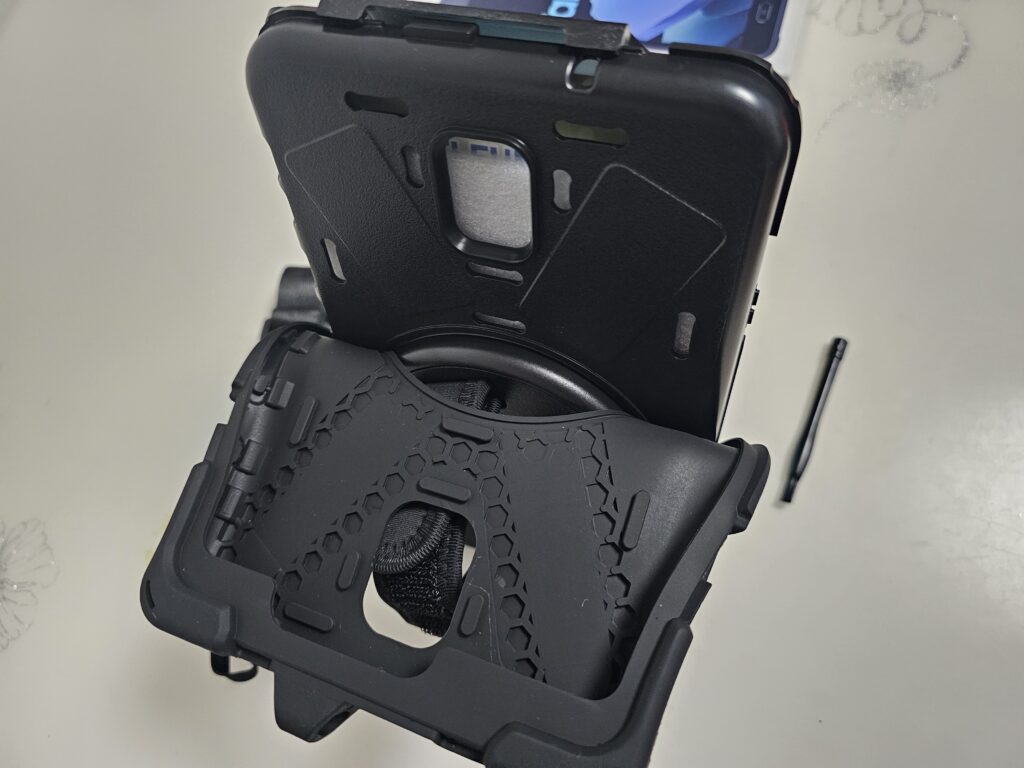 The tablet is first inserted into the hard plastic case then this hard plastic case inserts into the silicone rubber encasement for strong shock protection.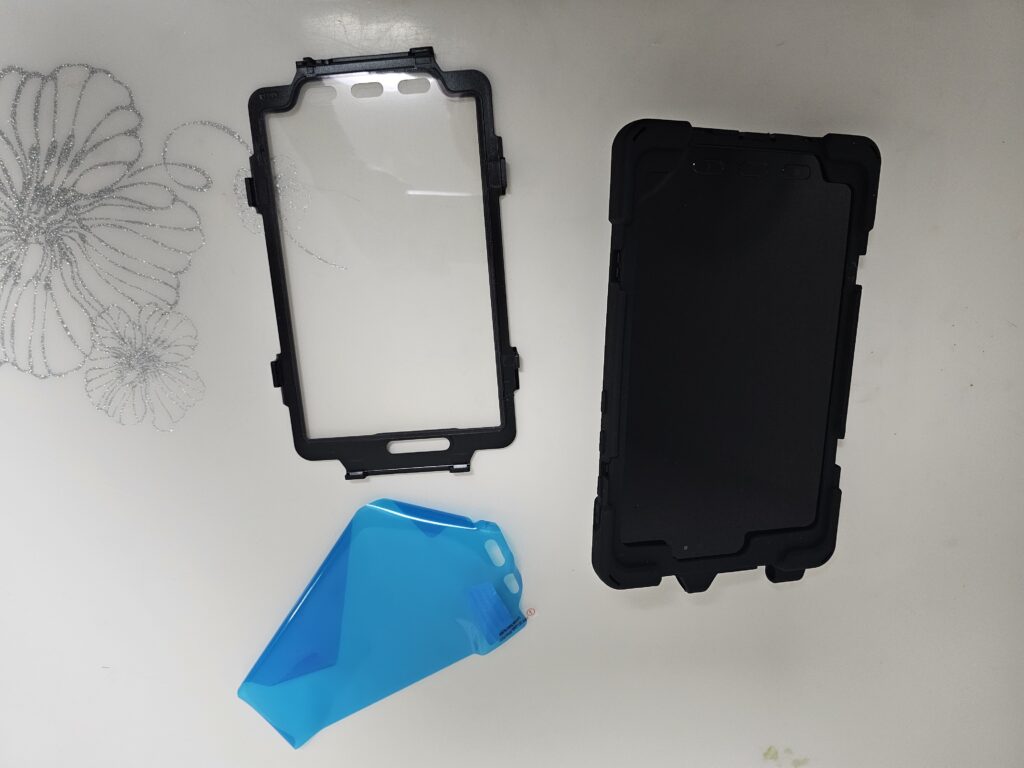 The clear plastic shield comes with a protective blue film which is removed prior to use. This plastic shield locks securely into the hardcase frame. It is also compatible with the S-pen and rubber tipped pens or finger-touch for touch screen operation.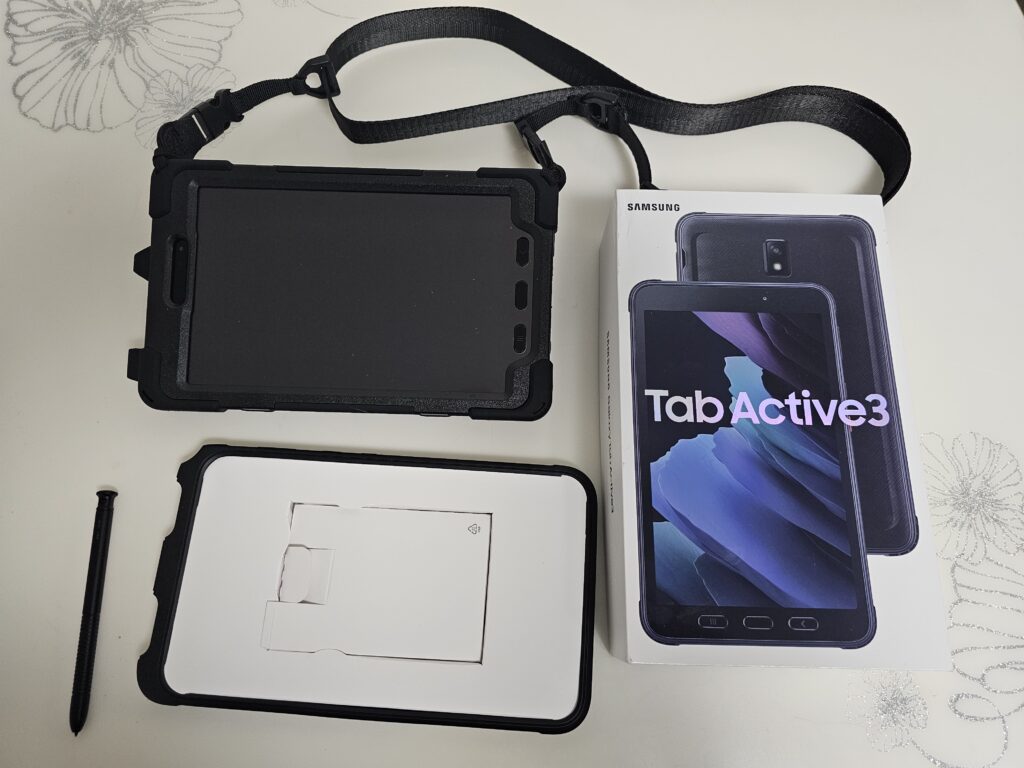 The image above shows the ZenRich armored case pictured above and the Samsung free plastic case below it. The free case comes with the tablet but is only a hard plastic shell and nothing more. The ZenRich case has a significant amount of armor in addition to the hard-shell plastic case.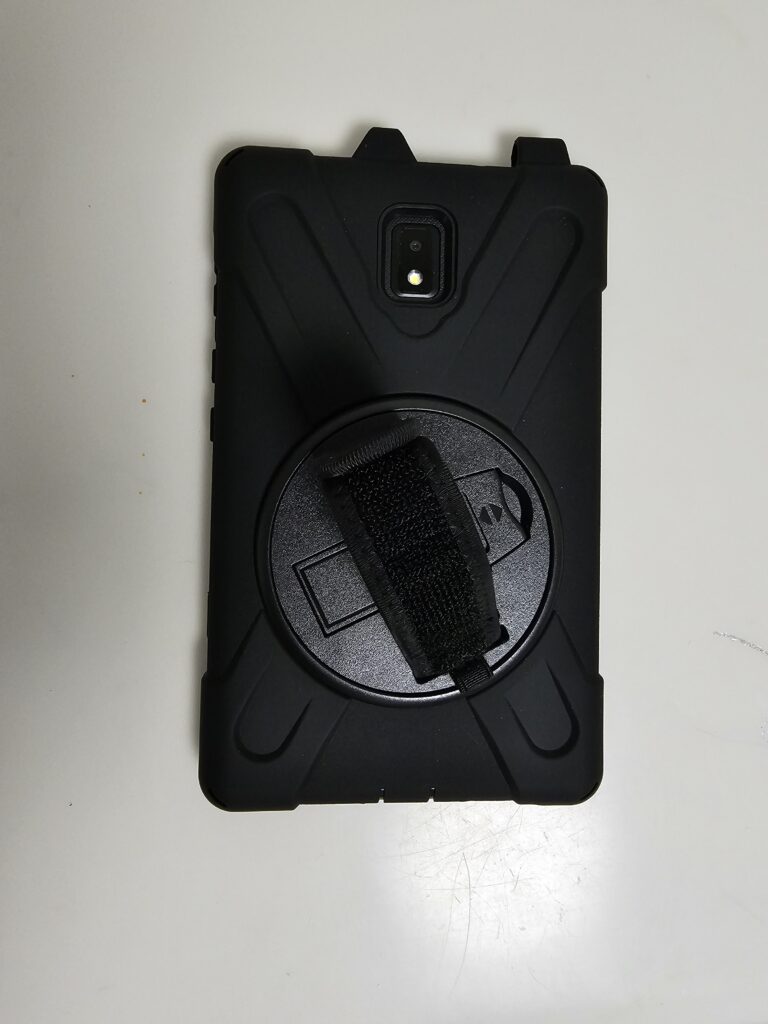 The backside of the case has a rotating hand-loop which is adjustable to any sized hand (including those wearing work gloves).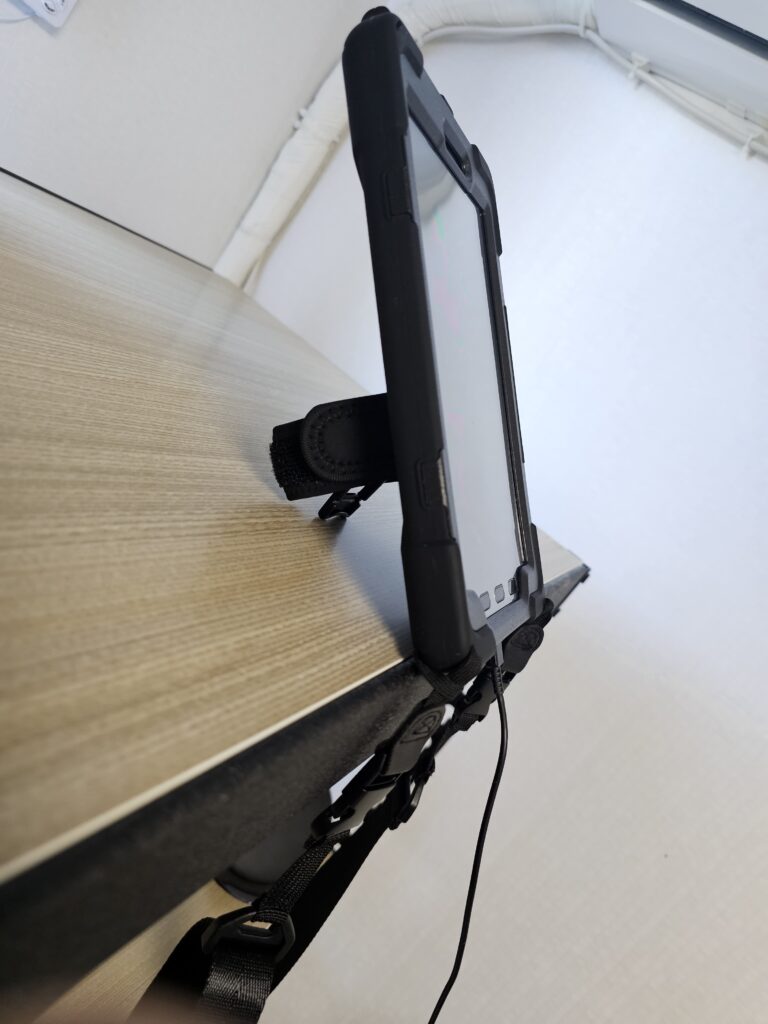 Under the back hand-loop there is a sturdy kickstand that allows the tablet to be placed on a flat surface in either the vertical or horizontal position. This kickstand rotates a full 360-degrees together with the hand-loop to accommodate a wide range of stand or handheld positions.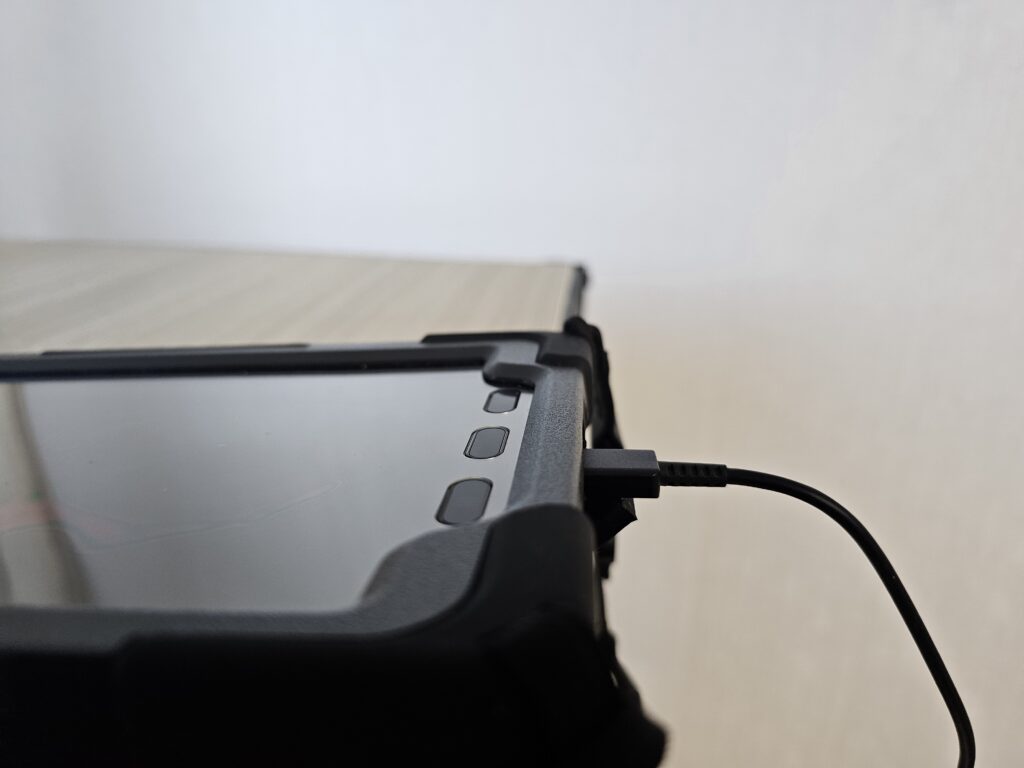 There is a heavy silicone rubber dust cover that protects the C-port opening. This port is necessary for both charging as well as data transfer so it is important that dust and moisture be kept out of this port. This rubberized cover is a good addition to provide increased protection for the tablet and its open port.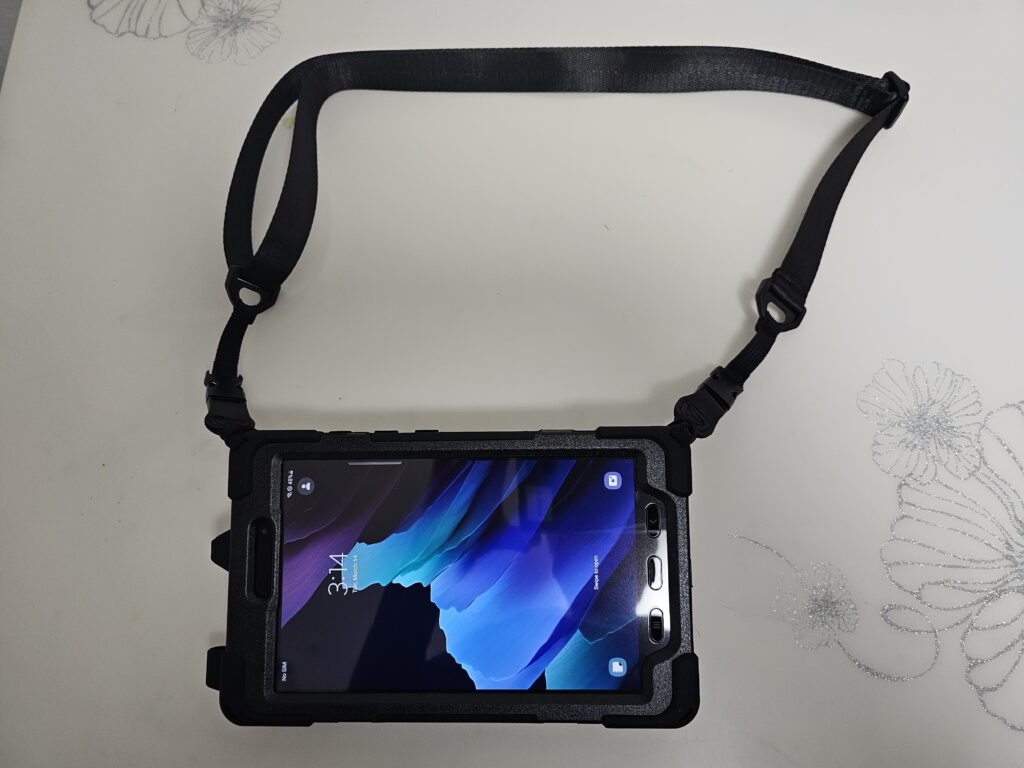 The armored case also comes with a shoulder strap. This strap can be attached on any of the four-corners of this tablet case.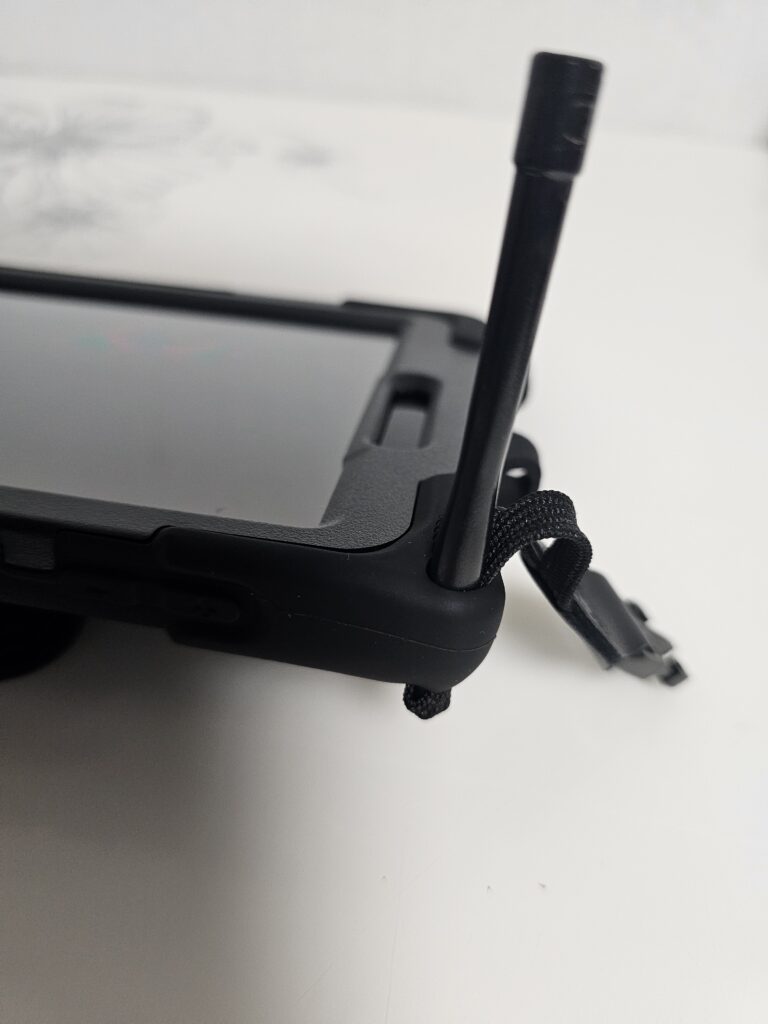 This kit comes with a disassembly tool to open the front bracket of the case to insert the tablet. This same tool also works well to insert the loop of the shoulder bracket buckle through the provided slots in the silicone armor encasement.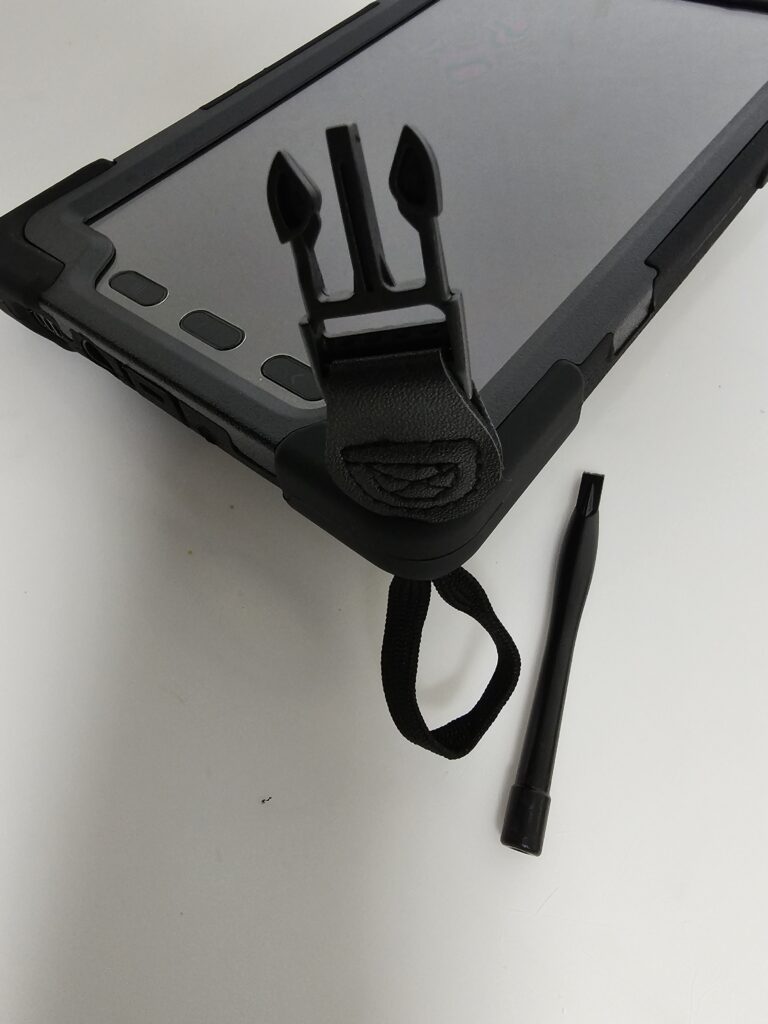 Once the loop is forced through the slot in the silicone rubber corner bumper then it can be passed over the buckle attachment and used to secure the shoulder strap.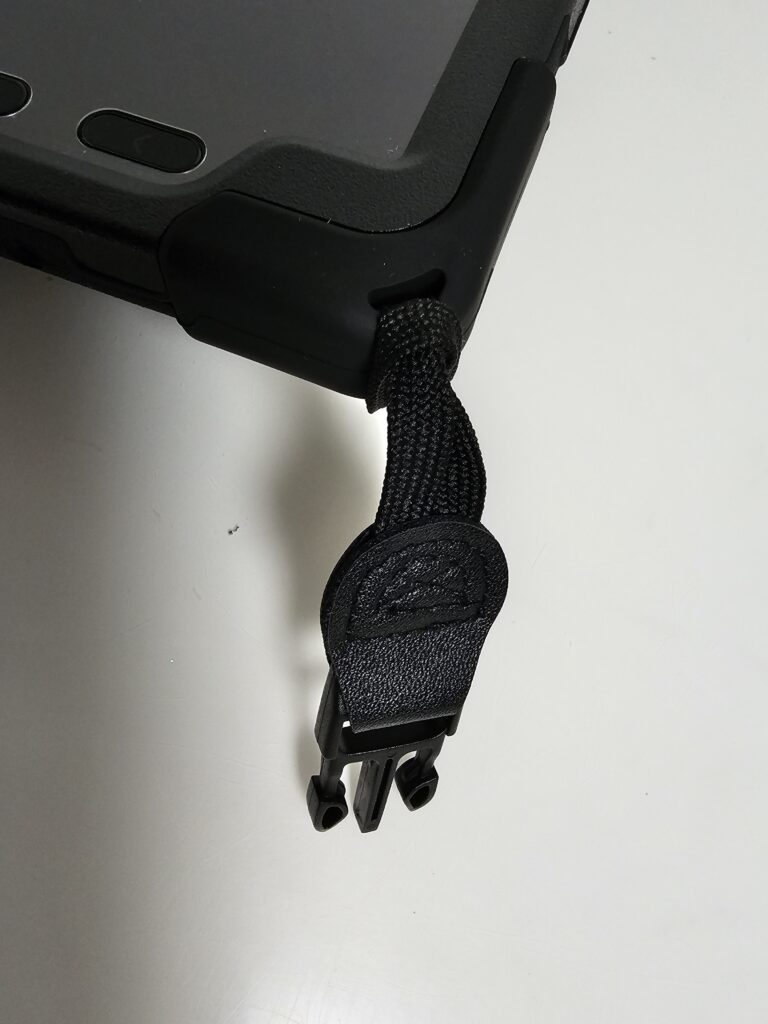 Once the loop is forced through the rubber corner slot then it can be looped over the buckle end and is ready for attaching the shoulder strap.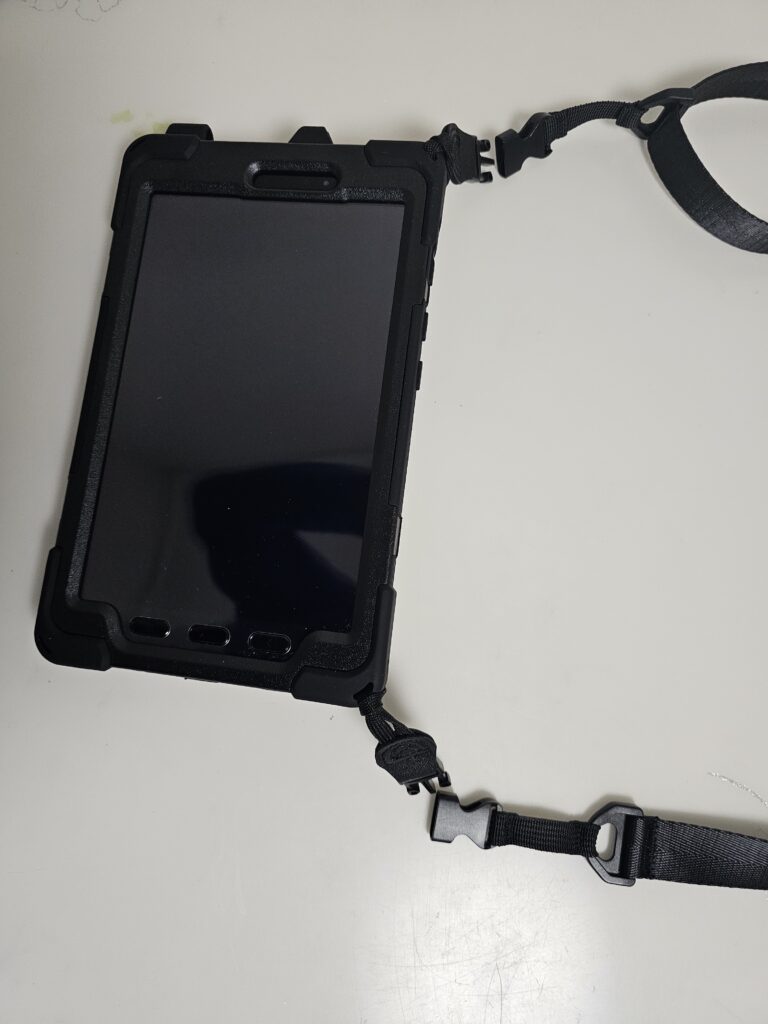 Buckles can be placed as seen above for positioning the tablet in a horizontal orientation.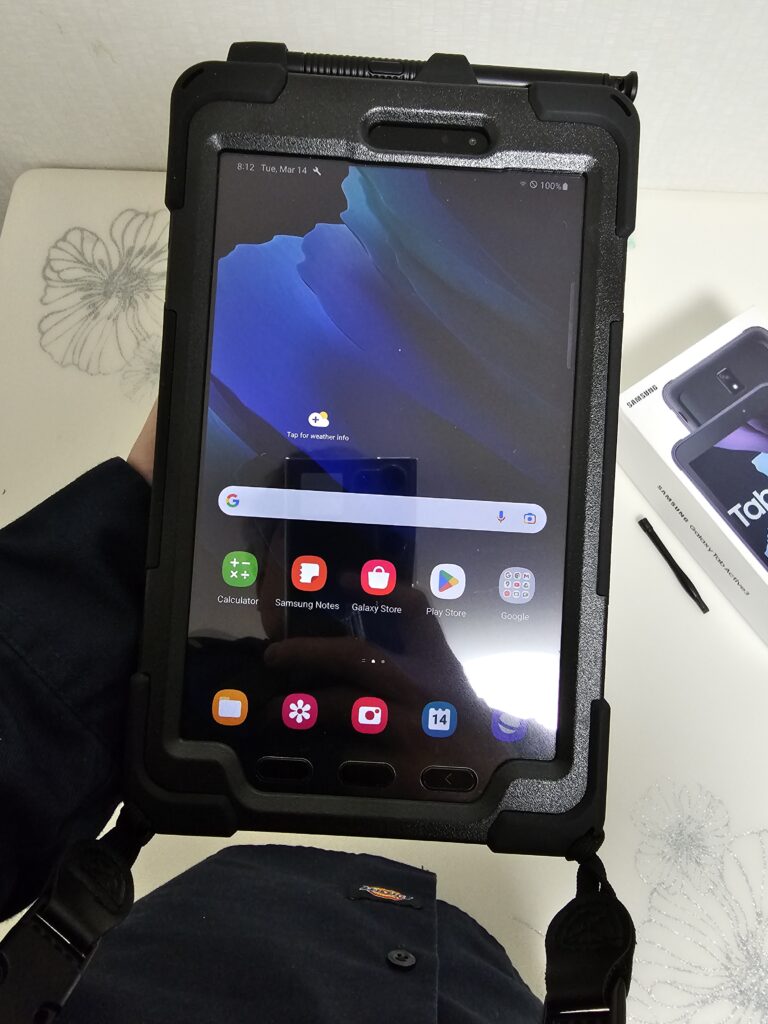 The buckles can also be attached to the ends for a vertical tablet orientation. In the image above, shows how the tablet can be hung in a top-down position and then lifted to a facial orientation when needed.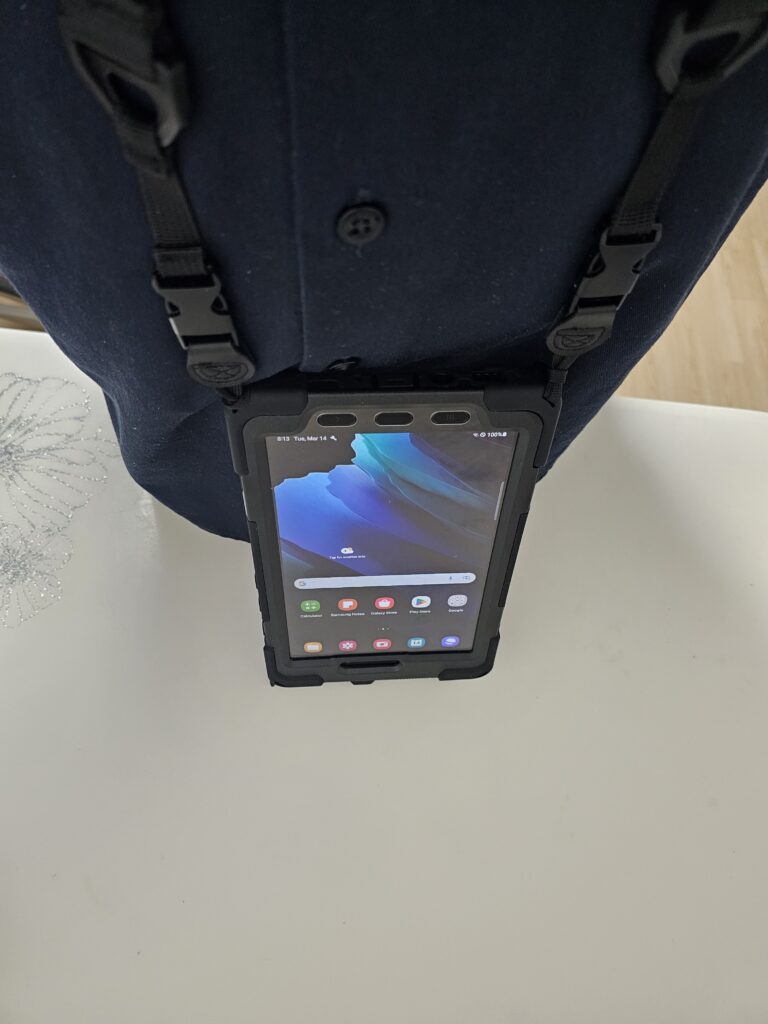 This top-down position is handy because someone can hang the tablet from the strap around their neck, with a top-down orientation and then easily lift it up toward their face when in use.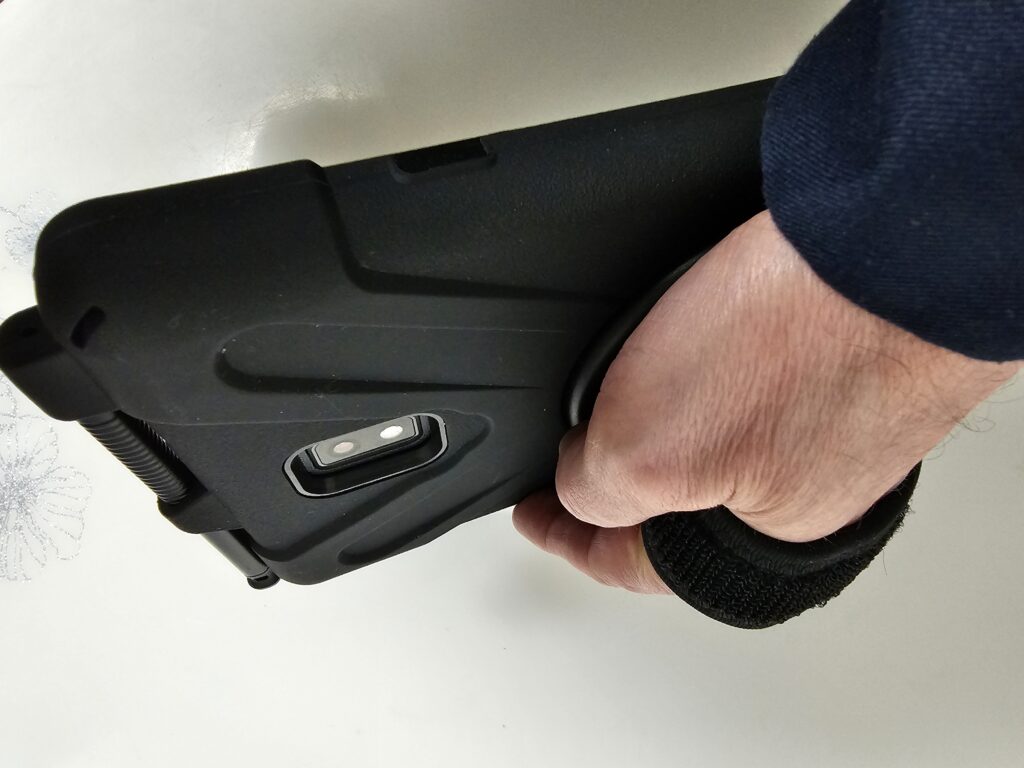 The rotating hand-loop is a convenient way of holding the tablet while in use. It can be rotated a full 360-degrees to accommodate any hand position.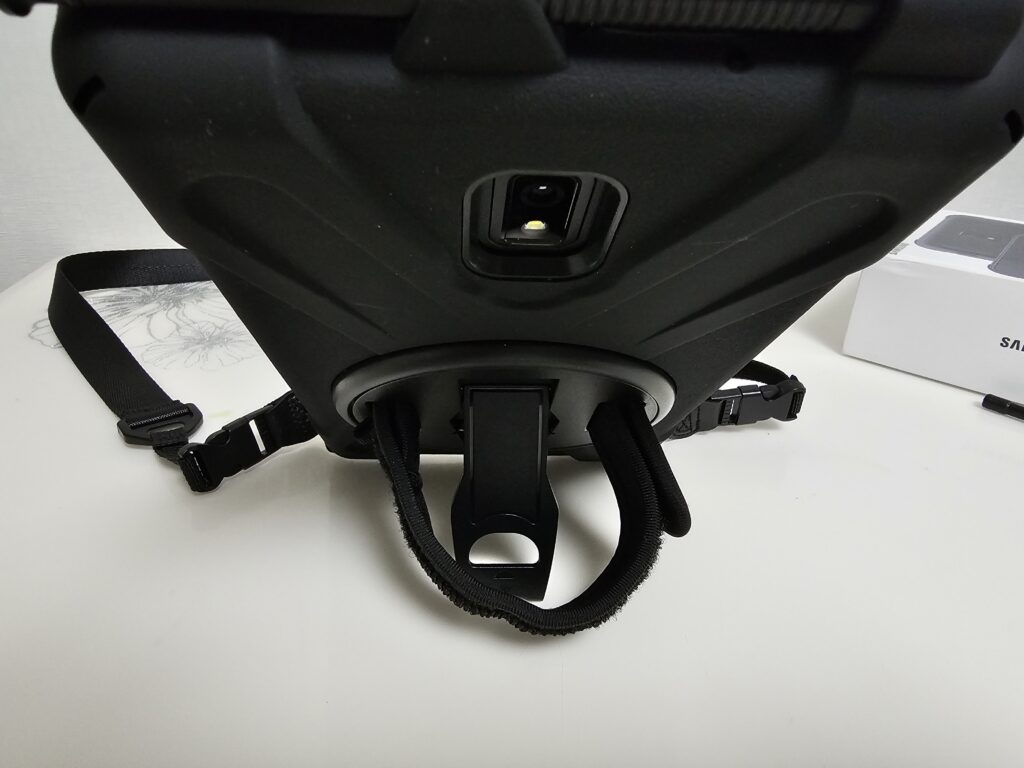 The kickstand rotates together with the hand-loop so that it can hold the tablet in vertical or horizonal position.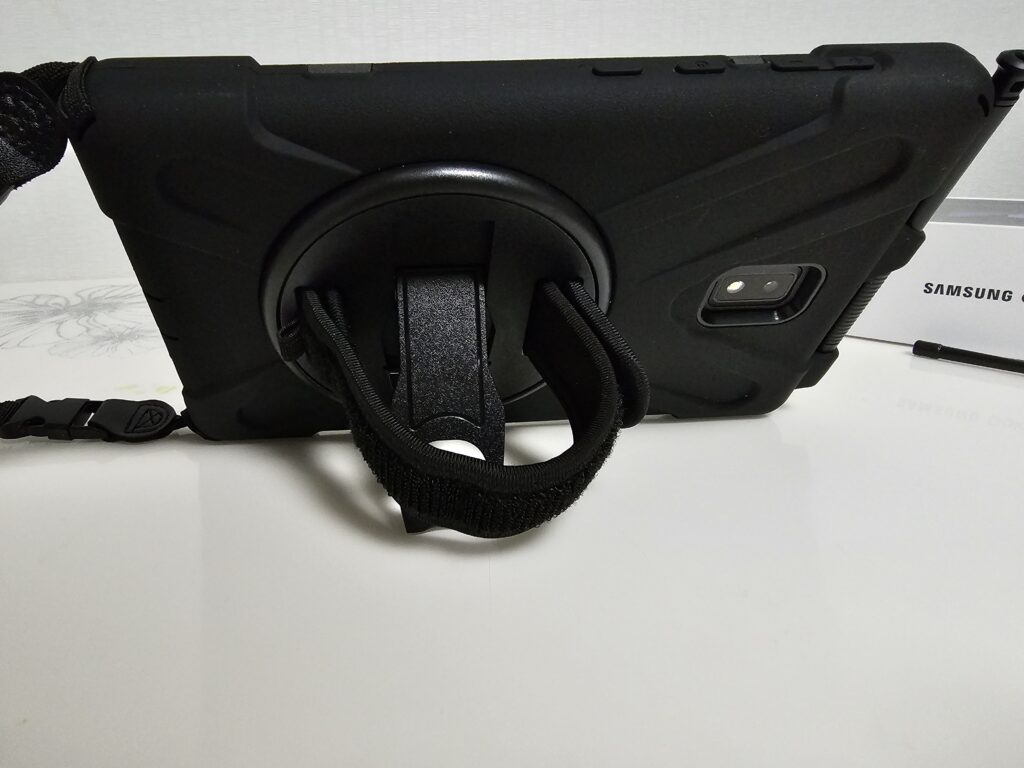 This armored case becomes very versatile with the number of ways the tablet can be held or hung from the shoulder strap or situated either vertically or horizontally from any flat surface.
This is a versatile tablet and with the ZenRich armored carrier this tablet can be carried just about anywhere in a secure and protected manner. This model (SM-T577UZKGN14) tablet comes unlocked so it can be used with various wireless services. It also has a SIM slot for accepting SIM cards in any country so that phone service can be found (wherever where there is wireless service available). This can be a useful tool for our pioneering and exploratory work and this tablet together with protective case is able to withstand many rough outdoor environmental conditions.
Powering Off Tablet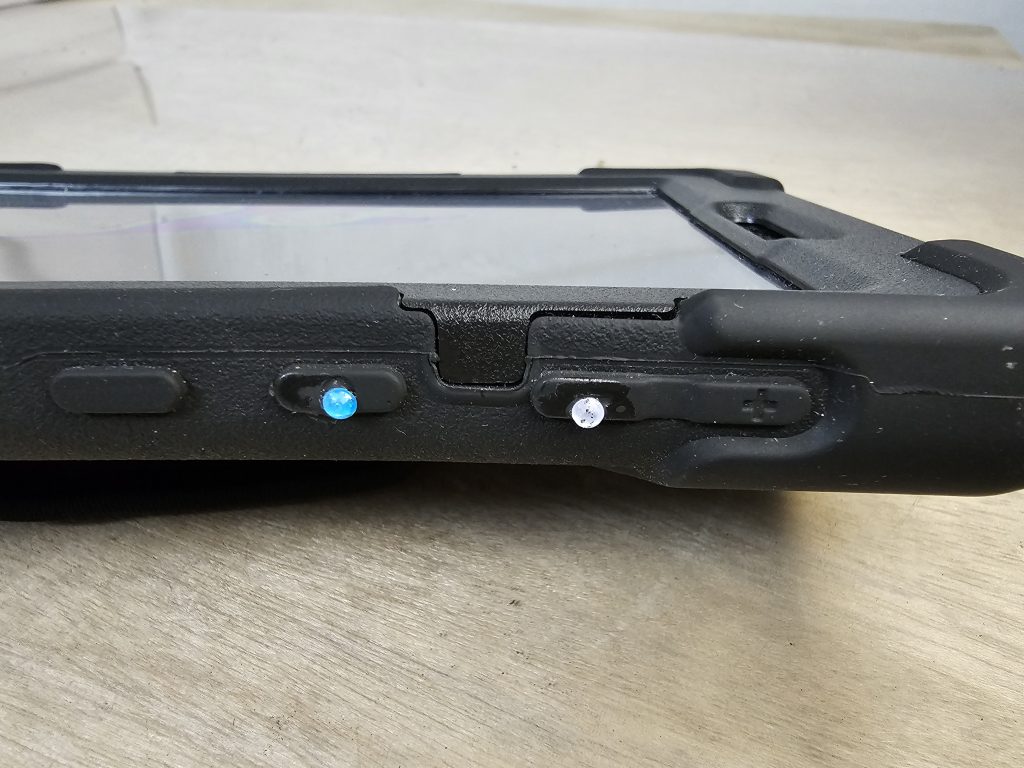 I placed a blue sequin on the power button and a silver sequin on the negative button. Oddly enough when both are pressed at the same time, then the tablet will power off. Having some sequins glued in these spots allows for powering off by "feel" without having to look.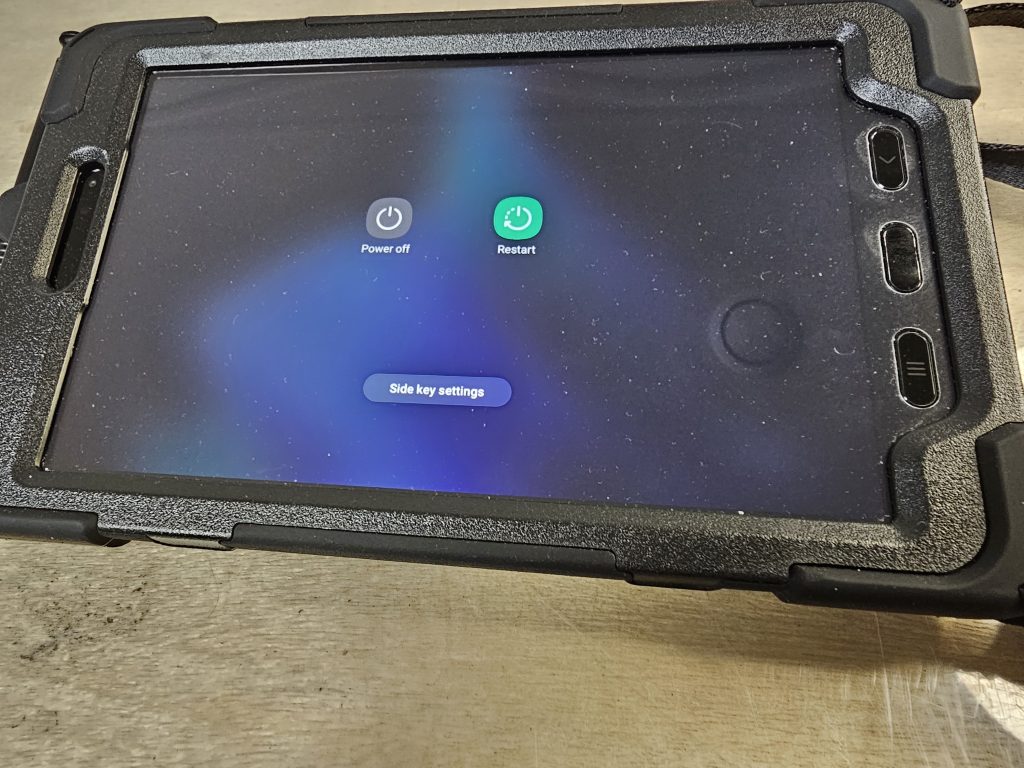 Pressing both buttons and holding them for several seconds can activate the [power-off] icon to shut down the tablet.
Utilizing "Hotspot" on Smartphone to Access Tablet Wi-Fi
I took my "ruggedized-tablet" to my Smartphone service provider here in Korea but I was not able to get a phone number and service for the tablet but had to utilize the Smartphone that I already have. I was told to use the "hotspot" function on my existing Smartphone and then my Smartphone could provide "wireless-Wi-Fi" to my tablet. This "ruggedized" table is only 3G while my smartphone is 5G but when using the 5G "hotspot" on my phone, it seems that the tablet shares the same speed. I do not notice any difference in speed when using this tablet together with the 5G hotspot on my phone.
Activating "Hotspot" on my 5G Phone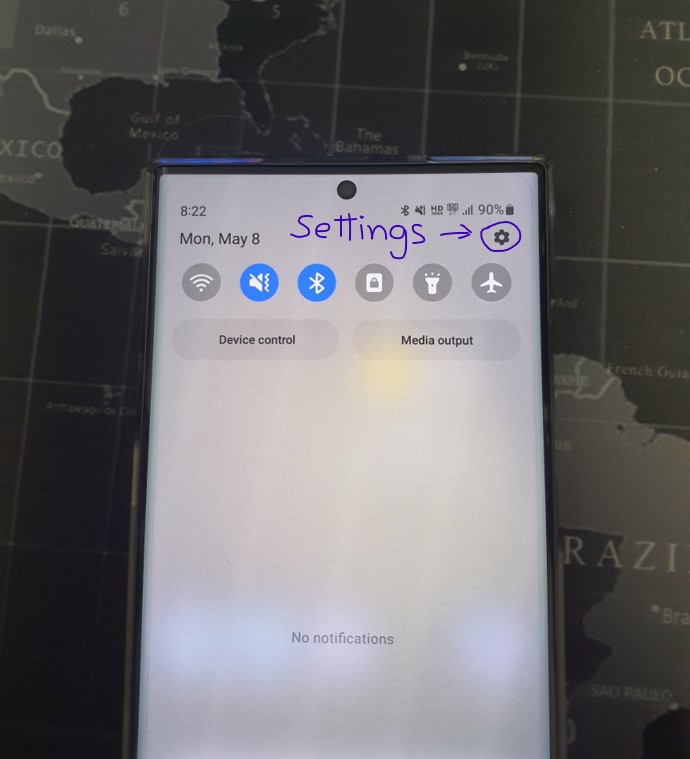 I had to go to the [Settings] icon on my Smartphone and click on this to open the settings.
Then in the [Settings] I selected [Connections].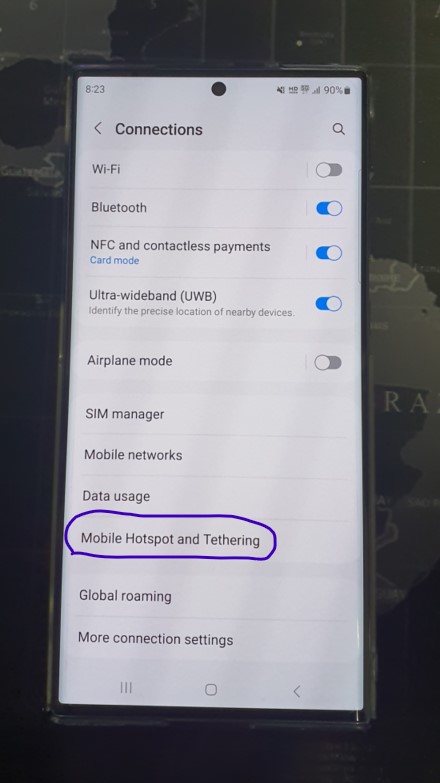 Once I opened the [Connections] menu, then I selected [Mobile Hotspot and Tethering].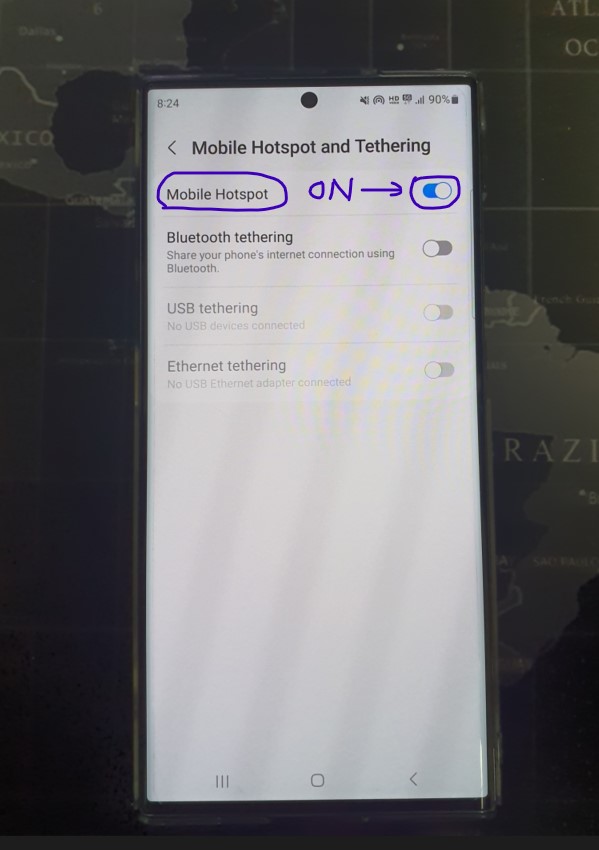 Under [Mobile Hotspot] I clicked the [on-switch] to activate the [Mobile Hotspot] function.
Once the [Mobile Hotspot] is on then I can use this to connect wirelessly to my tablet to connect to the internet or download apps as needed for my tablet. I can also access the internet for email and browsing and everything else. This works well because I have been carrying my Smartphone inside of a military mollie pouch carried on my load-bearing belt. So, I can carry the Smartphone within a waterproof and protected mollie-pouch (which gives me the [Mobile-Hotspot] I need to operate my tablet).
The tablet is "military-grade" so it is waterproof and shockproof and able to withstand outside rugged use. I found that the tablet is much preferred when I am taking images for making instructional blogs because the images are big enough to see clearly on the larger screen. If someone is standing next to me (and I want to show them an image I just took) then it is easy to share with them because the images are large enough to see clearly. It is better than a smartphone which has a display so small that images are not very visible until they are transferred to a larger screen of a computer. But if it is later discovered that the Smartphone image was not good then it has to be taken over again.
Therefore, I like this situation with the Smartphone [Mobile Hotspot] which allows my Smartphone to remain protected under rough conditions while at the same time, it still provides Wi-Fi access needed for my tablet.
I really did not need to have another phone number just to get my tablet connected to the internet. My service provider realized this so they stopped providing new numbers for tablets but now just allow the tablets to be connected to an existing Smartphone via [Mobile Hotspot]. In this manner, I still have the advantages of the smaller Smartphone when I need it separately but I can also utilize my tablet when I am outside under rough conditions that are better suited to my ruggedized tablet.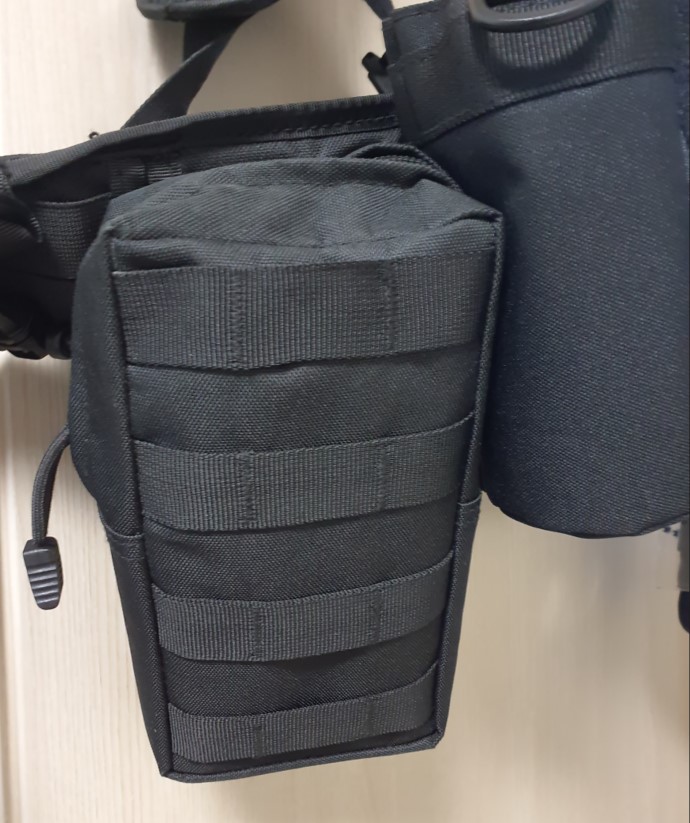 Above is a rectangle-shaped military mollie pouch that is made to fasten onto mollie-enabled belts and packs and other gear. It is waterproof and rugged and large enough to hold Smartphone, charger, and other things.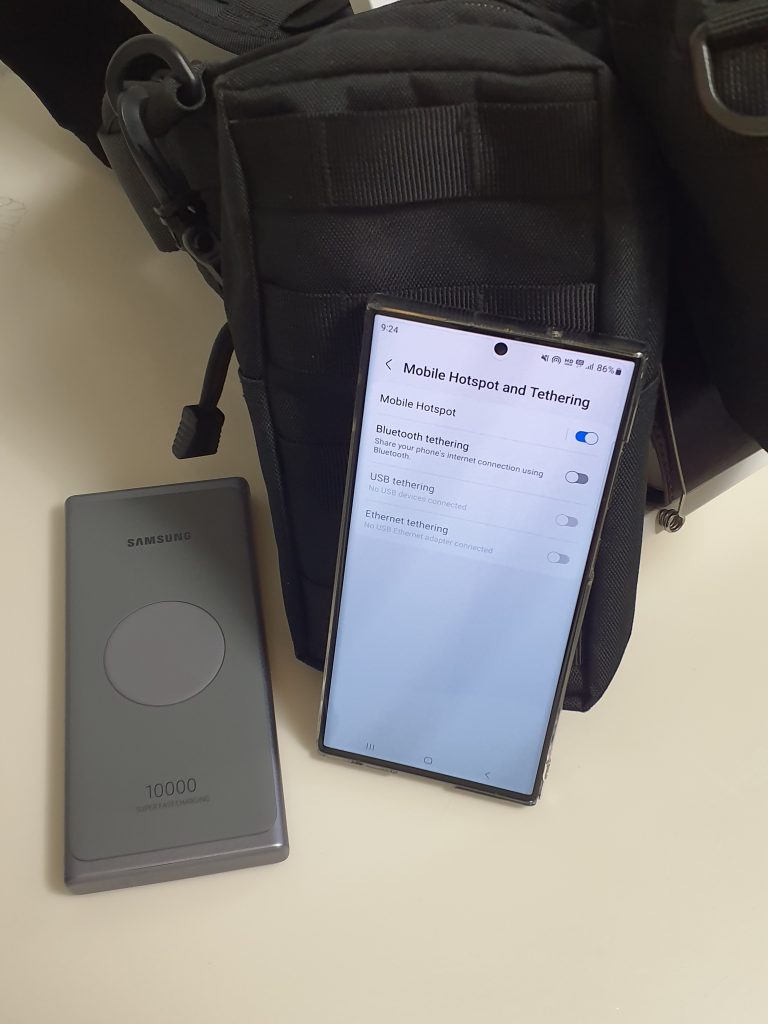 I also carry an wireless charger together with my Smartphone because it can extend the use of the Smartphone in the field by many additional hours.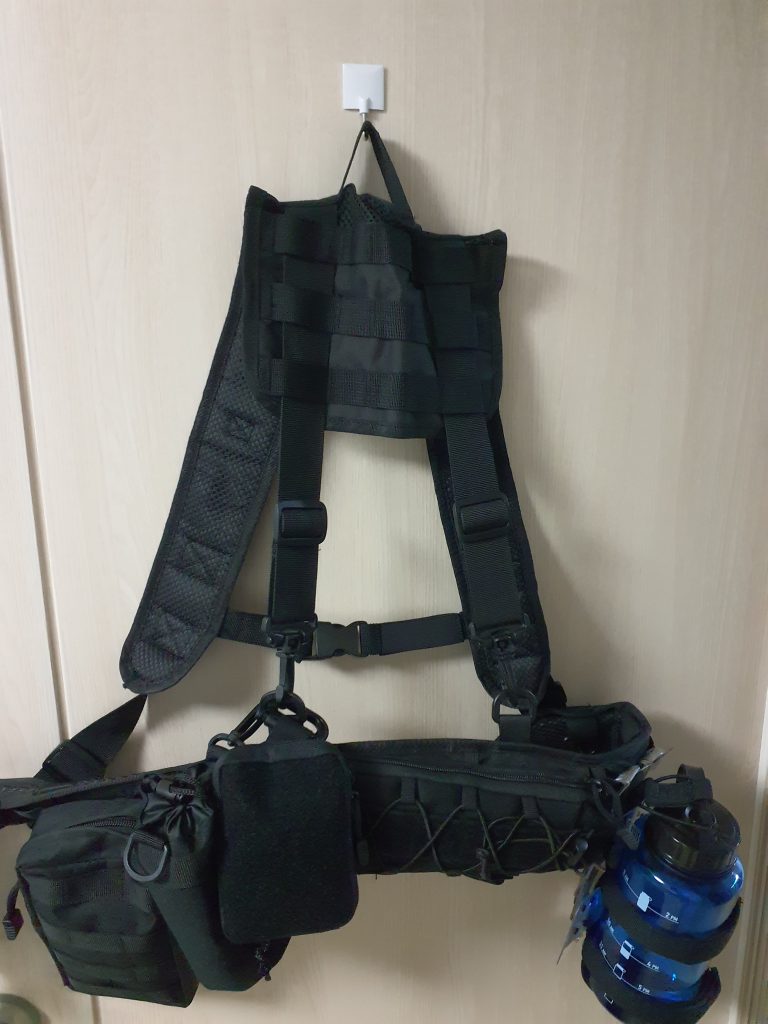 I carry all of this gear on a mollie-enabled belt with load-bearing suspenders. This allows me to carry gear comfortably because the weight is distributed evenly on my shoulders around my center of balance. This makes it comfortable to carry gear for extended periods of time. This load-bearing mollie belt is better than a backpack (which has the weight off-center from behind) forcing the wearer to lead forward in order to "center" the weight of the load he is carrying around his own body's center of balance.
Having a Smartphone in a weatherproof mollie pouch on a load-bearing belt seems to be perfect for outdoor use when enabling the [Mobile Hotspot] for my tablet to access needed Wi-Fi. I have other things I carry including water and this weight is all distributed evenly around my center of balance. This becomes a nice setup for outdoor work or for construction sites or for pioneering exploration for sites located in remote regions.